Tripawds is a user-supported community. Thank you for your support!
July 2, 2018
I can't believe it's already July!
I was able to bring Clyde home Saturday morning, and as soon as I brought him out of his carrier he was purring nonstop! He is so happy to be home.
The vet advised me that he he doesn't eat on his own, so he would need to have a wet food/water mixture syringed to him. However, Clyde ate and drank just fine on his own! I do hold the bowls up for him so he doesn't make a mess everywhere but he's doing great.
He is also incredibly eager to start moving around on his own! Several times he has tried to get up and crawl out of his cage and I cheer him on! Once his back splint is taken off, I think he'll do great.
He hated the 24-in crate I had for him, and it was pitiful to see how small of a space he was in, considering he likes to flop around.
I had myself a nice little set up on the floor right beside his crate – just a comforter and some pillows.
I left the crate door propped while I went to the bathroom the first morning home, because his head was resting on the threshold. I came back and the crate door was wide open and my lil guy was gone!!! It was actually funny to me, seeing how he wasted no time to sneak out on me! He didn't get very far, just tried to crawl under my bed, but I was able to grab him.
I did buy a larger crate for him yesterday, so in the future I'll have room for his litter box and food bowls when he's ready. I let him crawl out of the crate as long as I'm watching him, and he usually just plops on the comforter I have set up on the floor, and snuggles up with the plush blankets I have for him.
Last night was his first night sleeping in his bigger crate and he didn't seem to mind it! As long as I'm near him he seems to be comfortable.
I had to give him his pain medication in pill form yesterday and he did great! He's not a very big fan of his antibiotics, and gives me a hell-look whenever he starts swallowing it, but we both get it done and it's over with!
The vet gave me enough pain meds for the weekend, and I should be getting more today. He doesn't seem too bothered by any pain right now though. He's such a strong lil guy and I'm so incredibly proud of the progress he continues to make with every day.
Of course, I have a ton of pictures to share since I haven't posted in a while!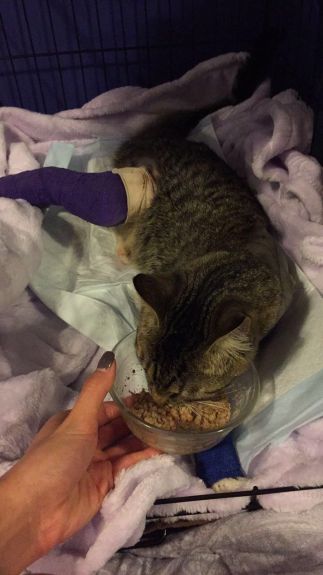 So this is him a couple of hours after bringing him home, eating all by himself!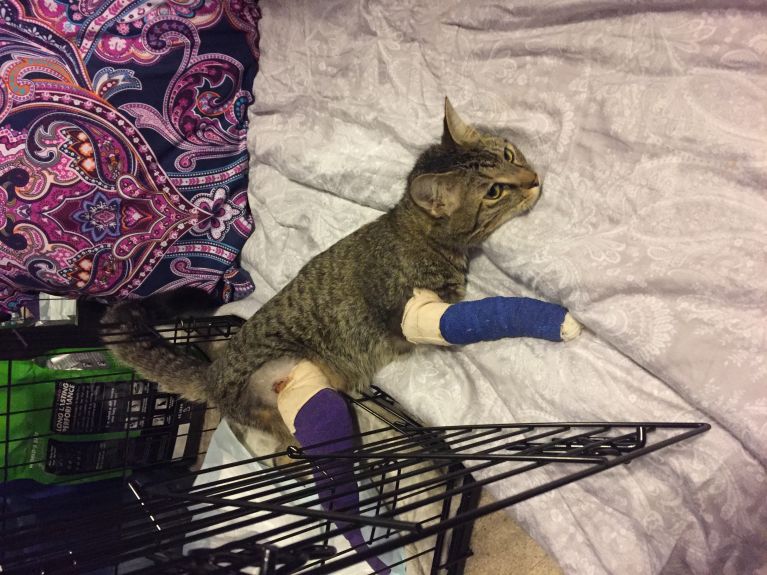 This is Clyde working on getting out of that God-forsaken crate!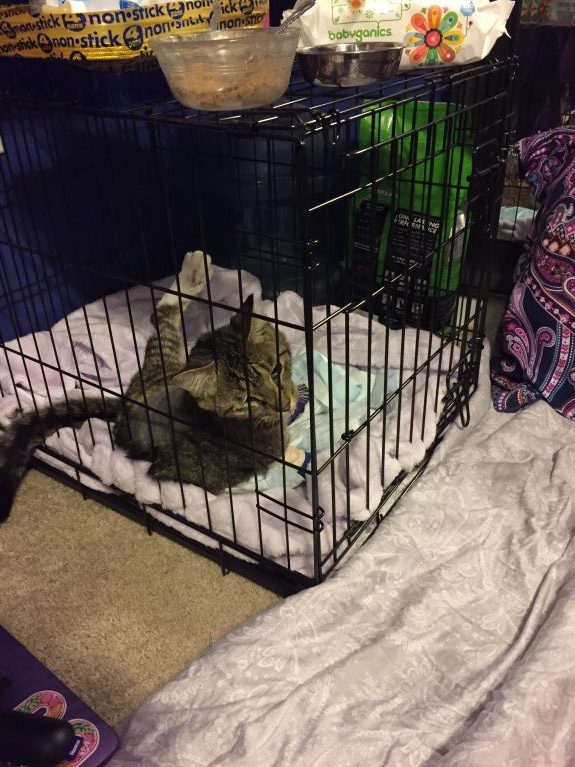 So with this one, I thought that he was just really anxious to get around the crate, but it's just an action shot of him peeing.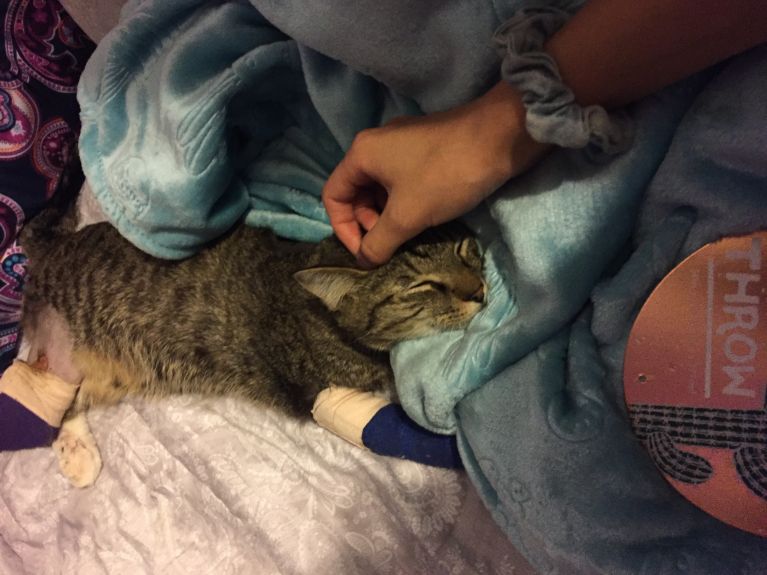 He started snuggling with the blanket as soon as I took it out of the bag!
So I do have a vet appointment today, and I'm excited for them to see how well he's doing and I can't wait to hear about the next steps we need to take to get him on all three's!
Happy,
Amb n Clyde!