Tripawds is a user-supported community. Thank you for your support!
June 28, 2018
I am so excited that I made the decision to join the Tripawd community! Everyone has been so welcoming, comforting, and helpful.
As an update from my first post: It turns out that Clyde more than likely crawled under my hood the night before, and was injured from the fan belt of my car, rather than being it. Either way, he still took quite a beating!
He is spending another night at the veterinary hospital, and I am beyond grateful for the help and consideration of the staff to give me continuous updates on my lil buddy.
Here are some pictures I took of him today when I went to visit!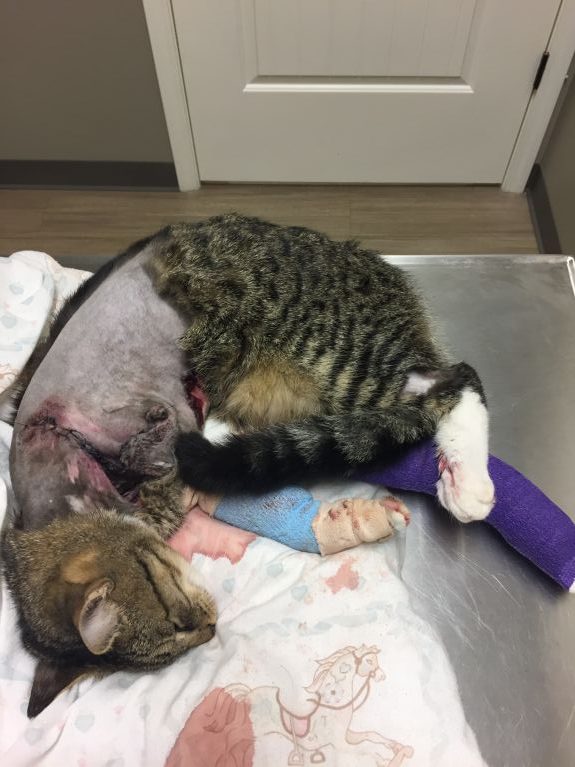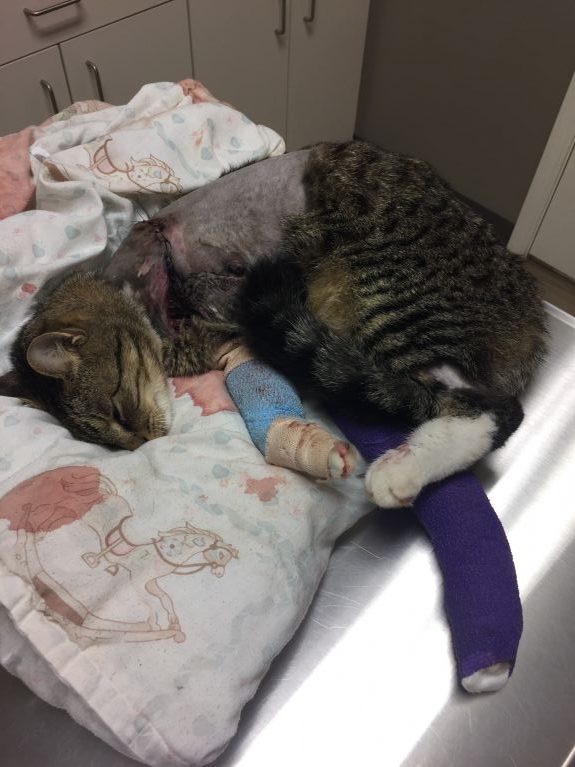 He's on a lot of meds so he spends all of his time sleeping and resting. Occasionally he'll raise his head up and have a loopy look on his face that makes me giggle. He's in a lot pain and he meows and squirms a little bit – which pains me.
His front left leg was amputated, his front right bandaged up, his back right leg has a splint on it, and the vet is still monitoring his back left. The way he described it to me, his back left leg is in a similar condition to a torn calf muscle, so depending on his progress with the back right, they will either put a small splint on it or add a temporary robo-implant to help it heal!
He's such a tough and strong boy and I am very proud of him. The vet bills are going to be very pricy but I started a gofundme that has accumulated a surprising amount of money towards my goal.
I am very thankful that I found this amazing vet office so close to my home, I am thankful for my friends, family and those who have helped to aid  me financially, and I am thankful for this wonderful Tripawd community!
I plan on taking videos and pictures of Clyde everyday that I can, though it may be difficult if he spends the weekend at the hospital.
I am optimistic about his recovery, and I can't wait to have him back home again!
I have also decided to nickname him Lt.Dan.
Once again, I appreciate and love all of you. I'm so ecstatic that I found this community.
Much love,
Amb n Clyde (aka Lt.Dan)