Tripawds is a user-supported community. Thank you for your support!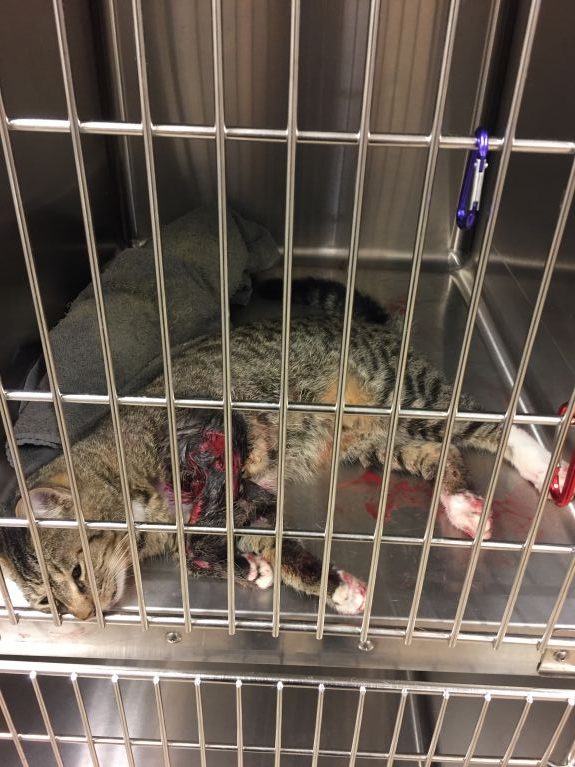 June 27, 2018
My name is Amber and this is my future tripod kitty, Clyde. He was ran over accidentally and rushed to a veterinary clinic immediately.
I received him from a coworker who had rescued him from outside of our workplace. One work night in January, she went around asking everyone if they wanted a kitty, and I fell in love with him from the first picture.
When he was ran over, I was devastated and hysterical. I managed the 5 minute drive to the nearest clinic, uncontrollably sobbing even as I stepped through the veterinary hospital's door.
He had never been to a vet before, and now he's going to be one of their special tripod kitty clients!
Upon doing X-rays and examinations, they informed me that he definitely had a leg fracture, and once they took me back to look at the X-rays they said that he was going to have to have a leg amputated.
Being in a distraught and emotionally unstable state, I wasn't sure how his lifestyle would be with only 3 legs, but he is so young and I planned on having him in my life for the next 20 years and I wasn't going to end that plan today.
Euthanasia wasn't even a thought in my mind, despite feeling that it may be an outcome. So given that I had an option to keep my baby Clyde with me, I took it, even if it meant taking one of his legs.
He had his surgery today, and the vet called me and told me that it went well, they got his leg off, and bandaged the others.
I can't take him home until tomorrow, but I get to see him in a few hours. I know that recovery is going to be a process, but I am so happy that I still have him here with me and I can't wait to go through this journey with him.