Tripawds is a user-supported community. Thank you for your support!
June 29, 2018 (Now technically June 30)
Before returning to work today I stopped in to check on my lil fighter! He's doing a lot better today than yesterday, which is a good sign for his recovery!
He's not quite able to eat or drink on his own yet, but with mixing wet food with water and putting it in a syringe and putting it to his mouth, he's willing to eat! I was very happy to see his willingness to eat through a syringe, and how easy it was for him to take his meds. I was also giving him head and chin rubs and he was purring for me which made me incredibly happy. As soon as I stopped giving him attention he started meowing, and would instantly stop when I started back again.
The vet wanted me to take him home today – although I planned on him staying over the weekend. I was so close to getting my lil buddy back home but they checked him and he had a fever so I won't have him back until the morning.
I bought a small 24-in crate today, smaller than I had planned but all of the pet stores were closed by the time I got off so I had to work with my options.
Here's the set up I have for him so far: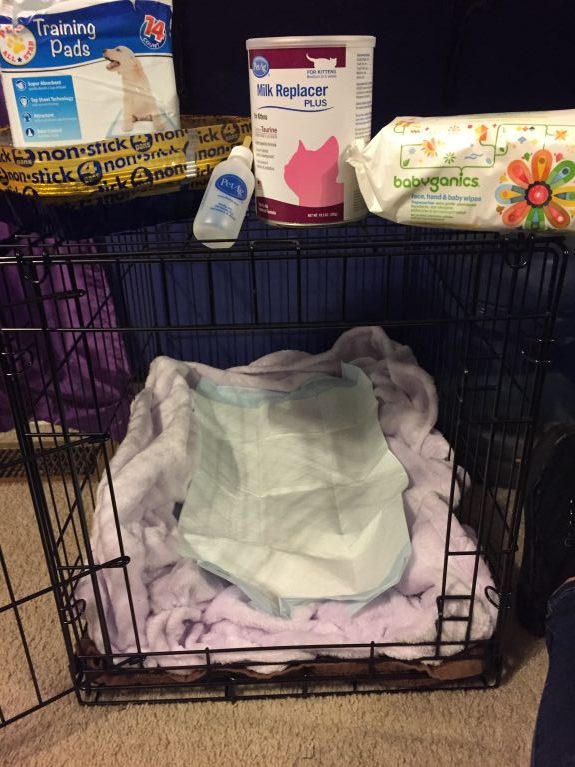 The vet said that he was sitting up a little today! Even though he was propped up against the cage door, that's still a positive sign to me. Since he can't get up and move around on his own yet, I purchased some puppy pads to make clean-up a little easier.
He hasn't been eating any solids yet, but with the mushy food I'll be feeding him I'm expecting a mess so I bought sensitive baby wipes to prepare for it!
Once he starts mobilizing himself a little more, I bought small aluminum baking trays to try and use as a litterbox. I also purchased a bunch of canned food for him, all varieties of seafood flavors – one person recommended the smellier, the better. I got milk replacement and a bottle for him to help give him some nutrients and maybe restore his health.
And of course, the softest blanket I could find!
It's going to be a long journey during his recovery but I'm trying my best to prepare for it! I have to feed him his mush about every hour, and I'll probably try to syringe some water to him as well.
He also has several vet visits planned for the upcoming week, but I'm excited to finally be able to take care of him on my own.
It's a miracle Clyde is alive, and I'm going to cherish every second I have with him. He's always been the sweetest cat and after everything he's been through he's remained the same.
So blessed that my fur baby beat the odds and is getting stronger with every day!
Until tomorrow,
Just Amb